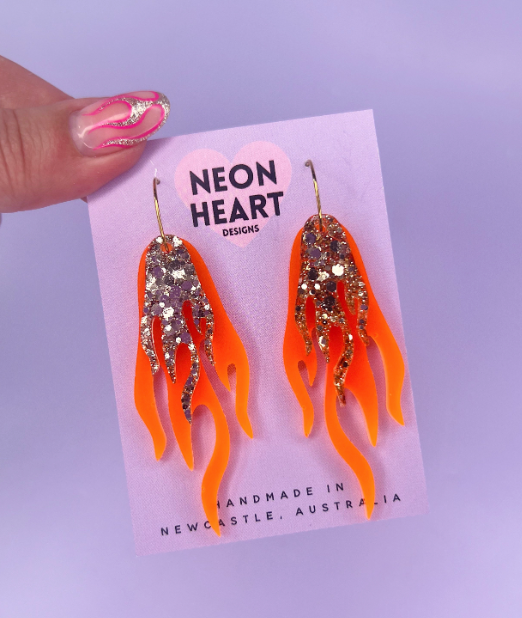 Blaze Earrings - Orange and Gold
Ready to set your lobes alight?!?! Look fire with our new Blaze Earrings! Designed to move like fire, the two pieces move to make it look like the fire is dancing adding something special to these statement earrings. Additionally, you can separate the flames and wear them individually mixing and matching to suit you mood or look. 3 sets in 1! Bonus!! 
Finished with stainless steel hoops and the flame earring is made from high quality epoxy resin. Epoxy resin is not heat proof so be sure not to apply any kind of heat to avoid damaging or warping your piece. 
Measures: approx 8cm x 2.5cm
Each Neon Heart Design creation is a one of a kind which is part of the charm of owning something handmade. You can be sure that your piece is created with care and love and has come from the heart. I hope you get as much joy out of your piece as I have creating it.
Please note, imperfections and bubbles are unavoidable. It is normal and part of the handmade process.