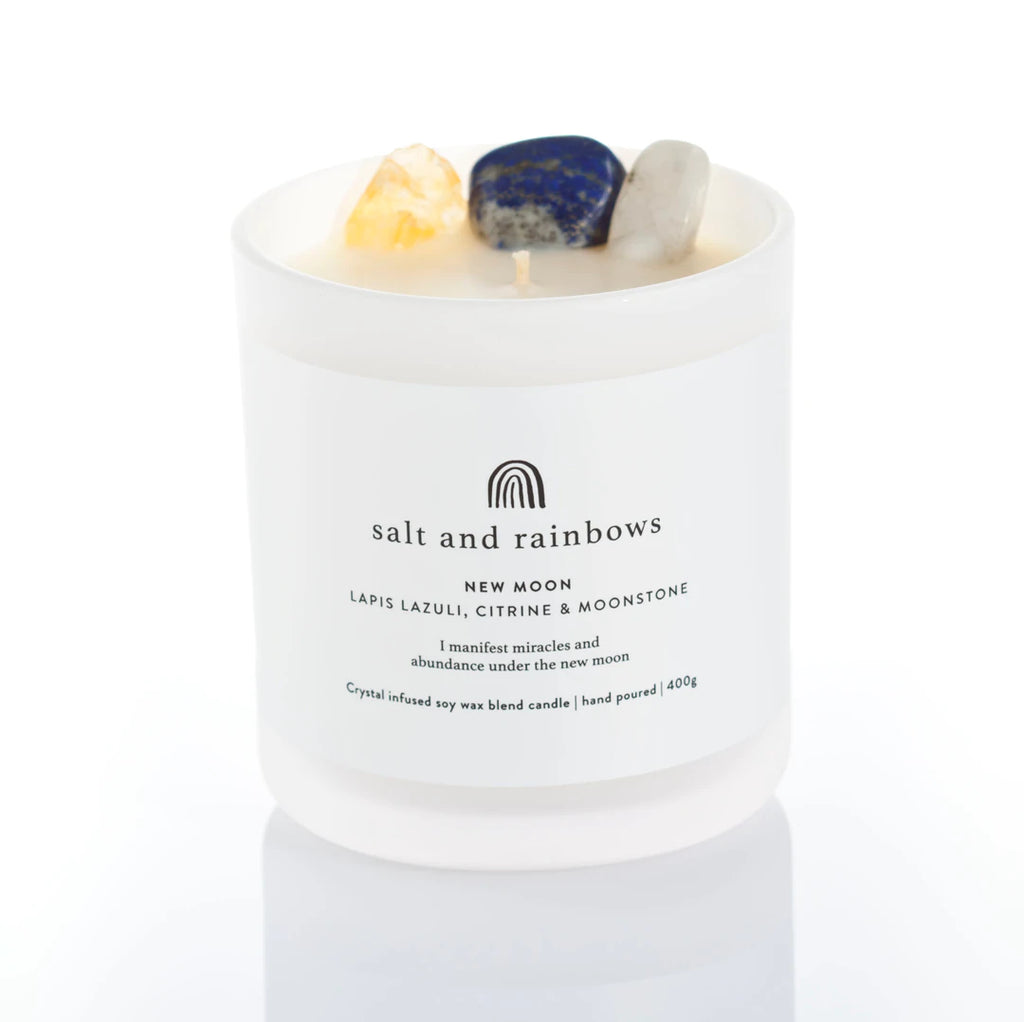 New Moon Sunshine & Happiness Candle
$41.00
or make 4 interest-free payments of $10.25 AUD fortnightly with
More info
We feel an important part of self care is raising your vibrations by surrounding yourself with a little magic. This candle supports you to unlock your desires and manifest your dreams. 
Lapis Lazuli reveals your deepest truths to unlock your true desires and empowers you with self-expression to speak your truth.
Citrine attracts wealth, prosperity and success. It raises self-esteem and self-confidence, promotes motivation, activates creativity and encourages self-expression.
Moonstone, the stone of new beginnings, promotes inner growth and strength. Enhancing intuition, moonstone promotes inspiration, success, and good fortune in love and business.
Manifest your best life with this tropical fragrance of creamy coconut blended with fresh and juicy honeydew, melon, and berries soothed with velvety vanilla. This fragrance will bring a slice of sunshine into your day.
All our candles are hand poured in our Fleurieu Peninsula studio and crafted with a soy wax blend, charged crystals, and a carefully curated fragrance. We ensure that each crystal is infused in the wax before finding their home in your candle to give you the maximum benefit of their energy.
Wanting to send this little love to someone you adore? All of our candles come in a gift box ready to be shared.
PRODUCT SPECIFICATIONS:
400g hand poured soy wax blend candle
Approximately 60 hours of burn time
Vegan friendly wax and fragrance
Australian made goodness
Ethically sourced crystals - ALWAYS!
Please note: all our candles now contain a double wick to bring you extra goodness with a better candle burn.
Read our Candle Care Instructions here. 
IMPORTANT: Your safety is number one!
Make sure to remove your crystals from the candle before burning. Never burn a candle with the crystals still in the wax. Once removed, you can gently clean off the wax (check our crystal care information) and then find a new home for them in your space. 
Never leave a lit candle unattended. Make sure to keep your candle away from drafts and flammable material. Not following these safety steps can create a fire hazard and be extremely dangerous.
Also please be aware that small crystals are a choking hazard and need to be kept out of reach of children and pets.